Hi,just a quick story and a few pics of our David Brown VAK1. my grandfather, Jack Hunter senior, bought it brand new in 1941 off Pentland's in Gortin for £300. which is sort of equivilent to me going out and buying a 936 Fendt now. lol
It had a hard life, working 24 hours a day sometimes. drawing meal and fertilizer from the docks in lderry to a farm shop in omagh then all round the country to farmers during the day and then ploughing all night. it is suprisingly fast for such an old tractor. it would hit 25mph on the road and runs on TVO (petrol paraffin mix)
slightly off topic but a story granda has told me quite a few times- they were working in a field one day and somehow the workman managed to drive over grandas leg with the metal tracked back wheel of the tractor(no tyres even), then the workman fainted so the tractor was stuck on top of him for ages. he spent 27 weeks in omagh county and still has the holes in his leg where he had pins in to prove it lol.
heres a pic of my granda working in one of our fields with it.
and one of two randomers in it sitting in our yard. noone can identify them lol
obviously it was neglected over the next number of years when it was no longer needed and ended up lying outside in a heap, 25 years ago my uncle started to do it up but only got the engine sorted AFAIK. then about 5 years ago my grandad decided he wanted it restored so a local vintage tractor mechanic took on the job and many weeks later this was the end result.
it has all the original panels and also (very rare) original cast iron grill, headlights, battery box etc. and we have still got the receipt for the tractor and 3 point linkage which was bought later and put on. also the original owners manual and parts and service book.
we had it at a few shows when it was first restored including a special DB event near belfast which had hundreds of Davy Browns but none like this. there are very few in the country and id imagine this could be the only one with its original owner.
heres a pic of the man himself with the tractor at our yard.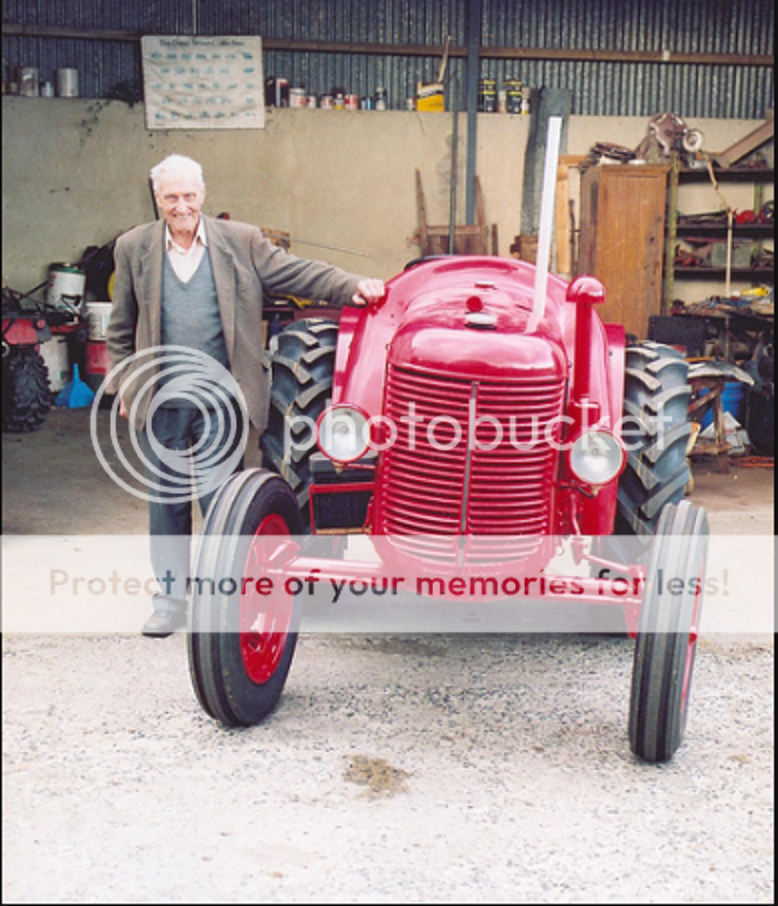 and one of him and my father at castlederg vintage rally a few years ago.
im currently working at it myself, as the engine wasnt running right. i have the whole thing stripped to the bare engine block and am now sourcing liners, seals and gaskets to replace the old ones as there was water getting into the sump which i believe was the liner seals and water getting into the cylinder which i think was caused by porous liners. so hopefully i will have everything fitted and built again soon so the old man can see it going again, (hes currently very ill in hospital) and hopefully we can get it to a few more shows in the summer.
anyway sorry i went on a bit but thats the story with the tractor, let me know what yous think.